4.9 star rating
22 Reviews
Extender Plates
Review by Dave M. on 14 Jan 2020
review stating Extender Plates
Worked great on an extra wide gap between studs.
Benjamin P.
5 star rating
solid bars
Review by Benjamin P. on 6 Jan 2020
review stating solid bars
well constructed, super straight and fit the mount perfectly
Very good quality.
Review by Joshua W. on 9 Nov 2019
review stating Very good quality.
Very good quality.
How it should have come originally
Review by Gerg P. on 27 Sep 2019
review stating How it should have come originally
The first time I installed my MantelMount 540 I used the standard bracket. But, due to the stud locations in my wall (one stud directly in the center of the fireplace) I had to offset the mounting bracket to reach two studs. In addition to not really liking the look of this high offset, I worried that the placement would put undue stress on the central stud over time and use. I ordered the PE40 Extended wall plates, unmounted the entire setup, and then reinstalled. Now, the mount is centered and symmetrical, attached to three separate studs, and even has more room for the cables and electrical plug behind the TV due to the separate nature of the PE40 plates. I'm MUCH happier and more confident with this setup. Frankly, this is how the kit should come in the first place.
Extended wall plates
Review by Karl H. on 7 Sep 2019
review stating Extended wall plates
The plates worked well. I needed these as my stud was located directly in the middle of my fireplace. The plates enabled me to properly mount my mm540. I was then able to hide them with the provided covers.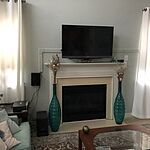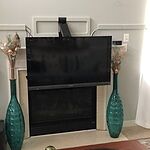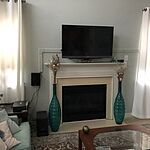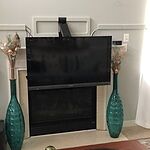 Perfect fit
Review by Teresa J. on 29 Jun 2019
review stating Perfect fit
We live in a manufactured home and the studs aren't standard - these extensions helped make our new Mantel Mount a perfect fit in our home.
Great accessory!
Review by Joel D. on 4 Mar 2019
review stating Great accessory!
This is definitely needed for some new construction houses with 24 inch studs. Works perfectly!
Worked great
Review by Joseph M. on 28 Feb 2019
review stating Worked great
Should be included in the original kit
MantelMount Extended Wall Plates
Review by Michael A. on 3 Feb 2019
review stating MantelMount Extended Wall Plates
I ended up having to purchase the PE40 Extended Wall Plates because my house had the stud patter over the fireplace with a middle stud exactly in the center and then moving out 16" each directions. This worked out perfectly for me since I was able to put six lag bolts (2 on each end and two in the center) to mount my MM540 MantelMount. The 65" TV is rock solid on the wall - And perfectly centered.
Extended Wall Plates
Review by Andrew W. on 1 Feb 2019
review stating Extended Wall Plates
These worked well for my 24" space studs. A little tricky to mark holes because they are separate and must be attached to mount to space them properly. An extra hand and a little care is needed. Once in they're doing well.