4.8 star rating
363 Reviews
Sturdy and well made mount
Review by Loren A. on 23 Jun 2020
review stating Sturdy and well made mount
We had our electrician mount the tv mount above our fireplace and have been enjoying the ease of lowering and raising back the tv in place. The only thing that I wish it did was that it would stay in put at different heights besides just the lowest position. We had brought it down 2/3rds down but it sprung back up. But this is a well designed mount and it's very easy to light up and down.
Amazing
Review by Duane M. on 22 Jun 2020
review stating Amazing
This was a great buy. It solved our space issue and kids love it. Installation instructions were one of the best I have encounter. Video installations would be great for some parts but it was still a smooth process. I would highly recommend.
Mantel Mount was a great purchase
Review by Sandra P. on 22 Jun 2020
review stating Mantel Mount was a great purchase
Mounting a TV over the fireplace in our new house would have meant looking way up all of the time. Mantel Mount was a perfect solution to that. Our installation was a little complicated because of existing things in the way. I wish that I had hired a professional to install. Even being careful and using all of the instruction included my husband managed to install it so it's too high when we push it up back into place, instead of centered in the space as we had intended. Lovely product, if you're not a pro, hire a pro to install.
Perfect fit
Review by Gregory G. on 16 Jun 2020
review stating Perfect fit
The perfect fix for over the fireplace application super easy install and no parts missing!
Great mount
Review by Paula G. on 16 Jun 2020
review stating Great mount
Great mount
Great product
Review by Tim H. on 11 Jun 2020
review stating Great product
The Mantel Mount was the perfect solution for our 55" TV mounted over our new mantel. I installed it myself. The instructions we clear & easy to follow. After making the easy adjustments it moves into position effortlessly It is highly recommended.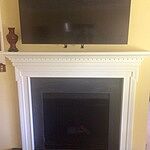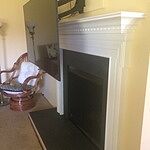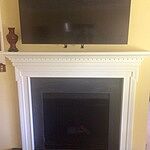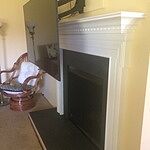 Exactly what I wanted
Review by Rich C. on 11 Jun 2020
review stating Exactly what I wanted
Ever since I had a flat screen and the only place I can put it was above the existing fireplace (close to 20 years now!), I always wanted a way to lower the TV for regular viewing from the couch. This mount is everything I had hoped for and it works exactly as I wanted. Now I do not have to crane my neck to watch a movie and the TV viewing (ESPECIALLY GAMING!!!) is a pleasure. I would recommend this mount to anyone.
Nice design. Detailed instructions. Clean look.
Review by Shepard K. on 9 Jun 2020
review stating Nice design. Detailed instructions. Clean look.
Mount is installed outside under an awning. So far so good. Hope I can get replacement parts if/when the time comes, such as the pistons. I live on the open bay. The salt air corrodes everything eventually. While I understand this is not an outdoor product, it fits our needs perfectly and we understand its limitations with the environment. However, I would like to know if I can get replacement parts or do I have to replace the entire unit? Thank you (shep@sentrylighting.com)
Mantle Mount Installed
Review by Tony C. on 4 Jun 2020
review stating Mantle Mount Installed
Mantle Mount Installed
Awesome Mount!
Review by Gerad F. on 2 Jun 2020
review stating Awesome Mount!
This takes some time to install if your doing it yourself but once it is up it is awesome!! So glad I bought the mantle mount would recommend it to anyone.
Q: i want to mount this in my RV.How far does it come out from the wall,and if there is no fireplace can it adjust in the lower position closer to the wall?
A: Hi Rich! When you pull the MantelMount all the way in the down position, your TV will sit out about 13" from the wall. Unfortunately, there is no way to adjust the distance from the wall in the lower position.
Q: In the upright position how far does the mount stick out from the wall
A: 1.8" recessed (if recessing it into wall with the RB100 Recess Box accessory), 5.5" if non-recessed.
Q: I have a mantle that is 11.5" wide. How much would the mount go down before hitting it?
A: Hello,

The MM340 will clear your mantel and travel the max distance without hitting your mantel. In other words it shouldn't it your mantel, as long as your TV and mounting area meet the minimum requirements.

Please visit our FAQs on our website to review the MM340 install manual.

-MantelMount Team-
Q: Does the mount tilt downward once lowered?

Can it be mounted into a stone fireplace?
A: Hi there! No, the MM340 does not have any tilt. If you want tilt, then you'd need the MM540.
Q: Can this be mounted on a horizontal beam? We have no vertical studs over the fireplace and only a horizontal beam/stud about halfway up the space. Can this be mounted on that?
A: Great question! Check out the AB40 Horizontal Adapter accessory we sell. You will need that plus the SSB40 adapter accessory, to mount the MM340 horizontally....so a 3 piece order. Any questions just contact support. Thanks!
Q: would MM340 work for 43" TV
A: Technically yes, but the TV is small enough that now you would be seeing a small potion of the bracket that usually the TV would conceal. IF you're only concerned about functionality and not as concerned about "aesthetics" it should be fine. That said, you want to make sure that TV is above 20 lbs. For more questions get us directly at
contact@mantelmount.com
or
800-897-9755
x 1. Thanks!!
Q: Which Wall Mount (MM340 or MM540) should I use for LG OLED C9 65 Inch TV (Model # OLED65C9AUA)? The TV weighs 56LB without stand. Thanks
A: Hi! The weight works fine with ANY of our mounts but you probably want the MM540 or MM700 depending on your budget. They share similar features/capabilities and give you a comprehensive experience.
Q: What kind of a bracket would I need to mount a Bose Soundbar 700 with this? Thanks!
Q: Do you think I can get a 32" Samsung TV on this MM540 unit for my workshop ?
A: Hello,

There are a couple of issues you will face when mounting a TV smaller than 44". The first issue would be the size of your TV. A 32" TV is actually smaller than the MM340, so the mounting hardware will be visible from the back when the TV is in the up position. If you're okay with the aesthetics not looking appealing, then you should be okay in that department.

The second issue is that your TV must weigh at least 20 lbs for the mount to operate correctly. If your TV is less than 20 lbs, the mount won't stay down when pulled to the down position. A work around for this, would be to add some type of weight to the mount, such as ankle weights. This will supplement the missing weight.
Q: How far above a 12 Inch depth mantel is required for clearance. Plenty of space above mantel.