4.8 star rating
340 Reviews
Great product
Review by Rashon B. on 15 Mar 2020
review stating Great product
Will be buying more soon
Little harder than I thought
Review by Fred L. on 10 Mar 2020
review stating Little harder than I thought
Little harder than I thought to install... but I got it installed.
The best!
Review by James D. on 7 Mar 2020
review stating The best!
My Mantelmount was installed by a professional who recommended it because "it is the best in the industry". He is surely right. Very versatile and easy to move my 55" TV to where I like it.
Review
Review by Andrew I. on 3 Mar 2020
review stating Review
Function- excellent. Install-finicky. The installer had done two previous MM's, and liked them, but still ended up going on youtube to figure out the nuts and bolts. Recommend clearer instructions and a video that omits nothing from unboxing to attaching cables to the tv.
This is where the literature
Review by Richard N. on 25 Feb 2020
review stating This is where the literature
This is where the literature was not related to the recessed mount
Heavy duty
Review by Frances W. on 24 Feb 2020
review stating Heavy duty
This mount is everything. It drops down below my mantel, and moves from side to side. It is very sturdy. I have no fear of it failing. We were afraid to install ourselves so bribed our neighbors.
Works greats
Review by David N. on 16 Feb 2020
review stating Works greats
Installation took some time but turned out great. Putting the TV in the up and down position requires some effort - and I've adjusted the piston per the instructions .
Game Changer
Review by Blake S. on 14 Feb 2020
review stating Game Changer
This product is so well designed and just cool! Didn't even think there was a solution to the problem of a bad viewing angle, but it exists! It's so easy to move the TV up and down. Perfect for movies and gaming when it's down, and it makes the TV look really nice when it's up.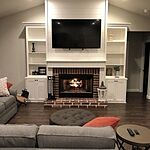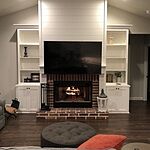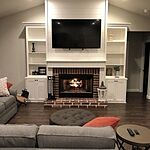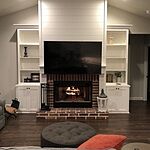 Worked for my Samsung 75"
Review by Xi Y. on 12 Feb 2020
review stating Worked for my Samsung 75"
Worked for my Samsung 75"
Great concept.
Review by Adam H. on 4 Feb 2020
review stating Great concept.
Works just as expected. Wish that the design was more lightweight and closer to the wall. Seems like the mount was design back when TVs were much heavier.
Q: i want to mount this in my RV.How far does it come out from the wall,and if there is no fireplace can it adjust in the lower position closer to the wall?
A: Hi Rich! When you pull the MantelMount all the way in the down position, your TV will sit out about 13" from the wall. Unfortunately, there is no way to adjust the distance from the wall in the lower position.
Q: In the upright position how far does the mount stick out from the wall
A: 1.8" recessed (if recessing it into wall with the RB100 Recess Box accessory), 5.5" if non-recessed.
Q: I have a mantle that is 11.5" wide. How much would the mount go down before hitting it?
A: Hello,

The MM340 will clear your mantel and travel the max distance without hitting your mantel. In other words it shouldn't it your mantel, as long as your TV and mounting area meet the minimum requirements.

Please visit our FAQs on our website to review the MM340 install manual.

-MantelMount Team-
Q: Does the mount tilt downward once lowered?

Can it be mounted into a stone fireplace?
A: Hi there! No, the MM340 does not have any tilt. If you want tilt, then you'd need the MM540.
Q: Can this be mounted on a horizontal beam? We have no vertical studs over the fireplace and only a horizontal beam/stud about halfway up the space. Can this be mounted on that?
A: Great question! Check out the AB40 Horizontal Adapter accessory we sell. You will need that plus the SSB40 adapter accessory, to mount the MM340 horizontally....so a 3 piece order. Any questions just contact support. Thanks!
Q: would MM340 work for 43" TV
A: Technically yes, but the TV is small enough that now you would be seeing a small potion of the bracket that usually the TV would conceal. IF you're only concerned about functionality and not as concerned about "aesthetics" it should be fine. That said, you want to make sure that TV is above 20 lbs. For more questions get us directly at
contact@mantelmount.com
or
800-897-9755
x 1. Thanks!!
Q: Which Wall Mount (MM340 or MM540) should I use for LG OLED C9 65 Inch TV (Model # OLED65C9AUA)? The TV weighs 56LB without stand. Thanks
A: Hi! The weight works fine with ANY of our mounts but you probably want the MM540 or MM700 depending on your budget. They share similar features/capabilities and give you a comprehensive experience.
Q: What kind of a bracket would I need to mount a Bose Soundbar 700 with this? Thanks!
Q: Do you think I can get a 32" Samsung TV on this MM540 unit for my workshop ?
A: Hello,

There are a couple of issues you will face when mounting a TV smaller than 44". The first issue would be the size of your TV. A 32" TV is actually smaller than the MM340, so the mounting hardware will be visible from the back when the TV is in the up position. If you're okay with the aesthetics not looking appealing, then you should be okay in that department.

The second issue is that your TV must weigh at least 20 lbs for the mount to operate correctly. If your TV is less than 20 lbs, the mount won't stay down when pulled to the down position. A work around for this, would be to add some type of weight to the mount, such as ankle weights. This will supplement the missing weight.
Q: How far above a 12 Inch depth mantel is required for clearance. Plenty of space above mantel.