4.8 star rating
306 Reviews
Works great! Love being able
Review by Mike H. on 23 Sep 2019
Works great! Love being able to pull it down and watch TV.
MM340 Install
Review by Joseph G. on 16 Sep 2019
Section 27 and 29 definition of safety bolt install is incorrect. Safety bolt hole is at bottom not the top.
Great TV Mount Beautiful
Review by Charles S. on 7 Sep 2019
Everything is great except it does not have a downward tilt. I do not need the speaker bar accessory.
Awesomeness
Review by Valerie B. on 4 Sep 2019
Love this product! Perfectly functional. Instructions could be simpler. But we managed. Whole different family room with the 70" TV mounted on the wall.
French door challenge!!!
Review by David P. on 5 Aug 2019
At our mountain home, we had the challenge of mounting a TV so that it wouldn't be obstructed when the French doors were opened to our screen porch. We were able to utilize the ManteMount to clear the doors when open! A perfect solution!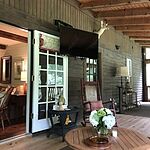 Convenience
Review by Nick R. on 1 Aug 2019
My mantle mount is working great and my only wish that it had a remote so I can push the remote to bring it down and then push the remote to go back to its original position.

Otherwise I am very happy and will refer to everyone.
Love this tv mount.
Review by Kari M. on 31 Jul 2019
We really like the flexibility we have with the MantelMount.
Further Comments
Review by Aaron on 31 Jul 2019
This mount has been installed for more than a year now. In my first review I mentioned that the mount squeaked something fierce, and was contacted very quickly by customer support. I followed their instructions to use lithium grease, which significantly limited noise and improved operation.

I was called out of the blue within the last week, again by customer support to check on the mount. A company that follows up on its own more than a year after a product is purchased is a rare and wonderful company.
Great product! People are blown away when I show them!
Review by Dennis B. on 26 Jul 2019
Takes some careful measuring, but apart from that, it is an easy install. Just take your time and don't rush. The results are amazing.
Love this mount
Review by Donald S. on 18 Jul 2019
MantelMount 340 works great! It solved our TV placement dilemma in a fireplace centered room. In the up position it is inconspicuous unless we use the picture gallery, then it really pops. In the down position it is at a good viewing height. Moving up and down is easy and secure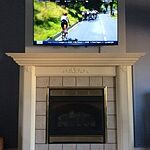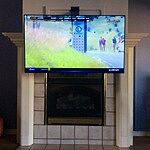 Q: would MM340 work for 43" TV
A: Technically yes, but the TV is small enough that now you would be seeing a small potion of the bracket that usually the TV would conceal. IF you're only concerned about functionality and not as concerned about "aesthetics" it should be fine. That said, you want to make sure that TV is above 20 lbs. For more questions get us directly at
contact@mantelmount.com
or
800-897-9755
x 1. Thanks!!
Q: Can this be mounted on a horizontal beam? We have no vertical studs over the fireplace and only a horizontal beam/stud about halfway up the space. Can this be mounted on that?
A: Great question! Check out the AB40 Horizontal Adapter accessory we sell. You will need that plus the SSB40 adapter accessory, to mount the MM340 horizontally....so a 3 piece order. Any questions just contact support. Thanks!
Q: Does the mount tilt downward once lowered?

Can it be mounted into a stone fireplace?
A: Hi there! No, the MM340 does not have any tilt. If you want tilt, then you'd need the MM540.
Q: I have a mantle that is 11.5" wide. How much would the mount go down before hitting it?
A: Hello,

The MM340 will clear your mantel and travel the max distance without hitting your mantel. In other words it shouldn't it your mantel, as long as your TV and mounting area meet the minimum requirements.

Please visit our FAQs on our website to review the MM340 install manual.

-MantelMount Team-
Q: In the upright position how far does the mount stick out from the wall
A: 1.8" recessed (if recessing it into wall with the RB100 Recess Box accessory), 5.5" if non-recessed.
Q: i want to mount this in my RV.How far does it come out from the wall,and if there is no fireplace can it adjust in the lower position closer to the wall?
A: Hi Rich! When you pull the MantelMount all the way in the down position, your TV will sit out about 13" from the wall. Unfortunately, there is no way to adjust the distance from the wall in the lower position.