4.8 star rating
37 Reviews
TV mounting revolution!
Review by Robert H. on 27 Nov 2019
review stating TV mounting revolution!
We decided to attack the sore neck problem created by our tv over our fireplace. The watching experience was 'painful'. We added the mantle mount to give the versatility of watching at various heights. BIG WIN! And, we chose the recess box to make the install and final appearance very clean. Mantle mount changed our tv watching for the best!
RB 100 Recess Box review
Review by Richard B. on 14 Nov 2019
review stating RB 100 Recess Box review
A great feature. Would not install this mount any other way.
Perfect addition to MantelMount
Review by Tony F. on 11 Nov 2019
review stating Perfect addition to MantelMount
My wife and I were very concerned regarding how far off he wall our tv would be when pushed back up into place. Our front door is directly to the side of our fireplace giving a perfect side view when entering. Well, this recess box solved everything! Now our tv sits close against the wall and we love it!
Well Made
Review by Alex C. on 9 Oct 2019
review stating Well Made
This is a heavy-duty piece of equipment. I flushed out my fireplace wall so could do the custom installation. I'm not a fan of TVs being up so high but I have a small living room of a 1916 house. Installed a new reclaimed barn beam mantel and a wood-burning insert. Since the insert puts out so much heat there was concern about the TV sticking out past the mantel. This solved both that concern and my dislike of high TV viewing. It looks great with the custom framing installation. More than happy to pay more for well-built equipment made in the USA. I really believe this adds value to my house and will never need to be replaced.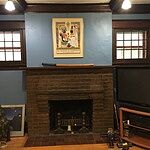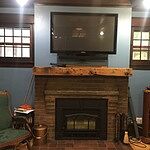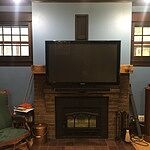 Reginald S.
4 star rating
We really like the recessed
Review by Reginald S. on 7 Jun 2019
review stating We really like the recessed
We really like the recessed box it made the installation so much cleaner it was definitely worth adding.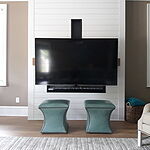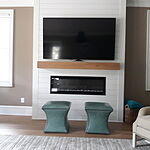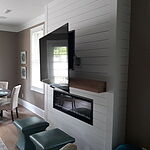 Exactly What We Wanted
Review by John H. on 10 Apr 2019
review stating Exactly What We Wanted
Wish it was white instead of black to reduce color contrast with wall; but in hindsight we are painting the room soon and will also paint the recess box at that time. But still having it white would mean just one coat of paint instead of perhaps two to adequately cover the black color.
Recess mount
Review by Adair M. on 29 Mar 2019
review stating Recess mount
I initially used the mantle mount without the recess box, and while I loved the functionality, the view of all the machinery was unattractive because of the way the fireplace is situated in the room. The recess box solved the problem!
Fantastic Idea.....
Review by Nevine G. on 6 Mar 2019
review stating Fantastic Idea.....
I love the recessed box and I would of given it a 5 star if there was a way to hide it. Some kind of a paintable cover. When we pull the TV down, we are distracted by the big black box in the wall. Otherwise it's a fantastic idea
Newly Installed
Review by Ronald E. on 16 Feb 2019
review stating Newly Installed
Our MantleMount was purchased as part of a home remodel project and we only installed it a couple days ago. Our GC reports that this is the TV mount he will use on his own place when he next purchases one. So far, the MantleMount performs as promised. We particularly like that we can bring the TV to a lower elevation AND turn it from the vertical plane. The layout of our family room makes this feature most useful.
Recess Box
Review by Joseph S. on 14 Feb 2019
review stating Recess Box
Recess Box
Q: How much vertical drop do you lose. If you mount The MM 540 recessed using the RB100
Q: I just purchased this to mount a 55" TV that measures 28.1" in height. How much of this box am I going to be able to see with the TV in up position? Any pictures of examples? I might opt for a larger TV if I'm going to see the box since that defeats the whole purpose.
A: You Will see a portion of the box in that we suggest TV's 32 inches and taller if you want the box entirely concealed when the TV is in the raised position. In this case you may expect to see up to 4 inches of the box when the TV is raised.
Q: What is the dimension of this box?
A: Hi there!

28.2 inches tall, 7.6 inches wide, 3.5 inches deep.