4.9 star rating
42 Reviews
Very well made and easy to install
Review by Charles J. on 24 Mar 2020
review stating Very well made and easy to install
So glad I chose the recess option when installing my MM540 MantelMount. It allowed me to get my tv flush against the wall within a few inches. It was easy to install with the detailed instructions. Love the look!
Finally Completed!
Review by Terrel R. on 23 Mar 2020
review stating Finally Completed!
I purchased this item and the MM700 shortly after moving in to our new home which was built in 2002 when tv's were 36" crt variants. The recess box was instrumental in my flush mount goal and was a great option.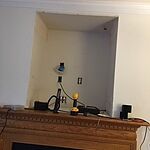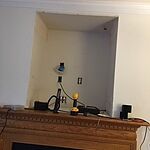 My only complaint is the
Review by Richard N. on 25 Feb 2020
review stating My only complaint is the
My only complaint is the literature doesn't match the products when you use the recessed mount with the mounting hardware I bought (340?). It talks about other models and how they should attach. Tough to figure out how to figure clearance also.
Brick wall afterthought
Review by Michael C. on 30 Jan 2020
review stating Brick wall afterthought
Obviously, placing a recess box into a brick wall would be easier during wall construction, but MantleMount and flat screen TVs weren't around in 1984! Luckily, I had a talented builder and a bit of luck opening up the brick. We were able to securely fasten the box to existing horizontal 2x4s and also to a well-placed concrete header with Tapcons. There was no need for exterior braces but the wall plate was essential to the install. Still need to finalize wiring but very happy with my choice of mount and method of install (recessed).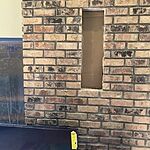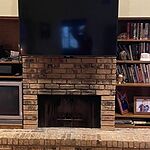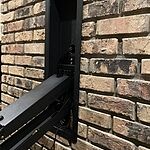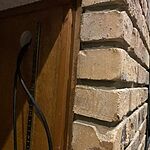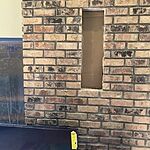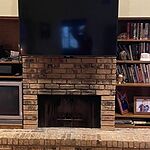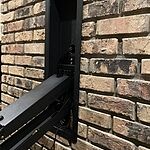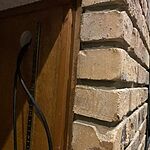 Recess Box Installation and function.
Review by Stephen Z. on 7 Jan 2020
review stating Recess Box Installation and function.
Installation went smoothly and TV fits tightly against wall for a much cleaner look.
TV mounting revolution!
Review by Robert H. on 27 Nov 2019
review stating TV mounting revolution!
We decided to attack the sore neck problem created by our tv over our fireplace. The watching experience was 'painful'. We added the mantle mount to give the versatility of watching at various heights. BIG WIN! And, we chose the recess box to make the install and final appearance very clean. Mantle mount changed our tv watching for the best!
RB 100 Recess Box review
Review by Richard B. on 14 Nov 2019
review stating RB 100 Recess Box review
A great feature. Would not install this mount any other way.
Perfect addition to MantelMount
Review by Tony F. on 11 Nov 2019
review stating Perfect addition to MantelMount
My wife and I were very concerned regarding how far off he wall our tv would be when pushed back up into place. Our front door is directly to the side of our fireplace giving a perfect side view when entering. Well, this recess box solved everything! Now our tv sits close against the wall and we love it!
Well Made
Review by Alex C. on 9 Oct 2019
review stating Well Made
This is a heavy-duty piece of equipment. I flushed out my fireplace wall so could do the custom installation. I'm not a fan of TVs being up so high but I have a small living room of a 1916 house. Installed a new reclaimed barn beam mantel and a wood-burning insert. Since the insert puts out so much heat there was concern about the TV sticking out past the mantel. This solved both that concern and my dislike of high TV viewing. It looks great with the custom framing installation. More than happy to pay more for well-built equipment made in the USA. I really believe this adds value to my house and will never need to be replaced.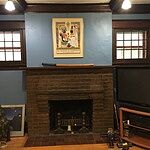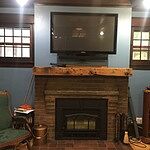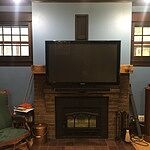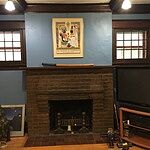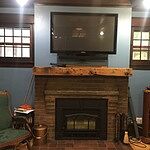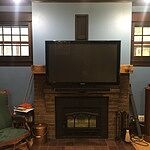 Reginald S.
4 star rating
We really like the recessed
Review by Reginald S. on 7 Jun 2019
review stating We really like the recessed
We really like the recessed box it made the installation so much cleaner it was definitely worth adding.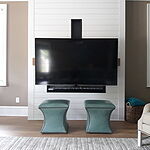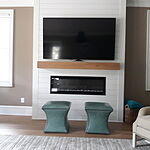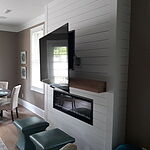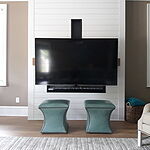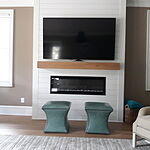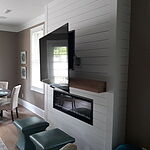 Q: What is the dimension of this box?
A: Hi there!

28.2 inches tall, 7.6 inches wide, 3.5 inches deep.
Q: I just purchased this to mount a 55" TV that measures 28.1" in height. How much of this box am I going to be able to see with the TV in up position? Any pictures of examples? I might opt for a larger TV if I'm going to see the box since that defeats the whole purpose.
A: You Will see a portion of the box in that we suggest TV's 32 inches and taller if you want the box entirely concealed when the TV is in the raised position. In this case you may expect to see up to 4 inches of the box when the TV is raised.
Q: How much vertical drop do you lose. If you mount The MM 540 recessed using the RB100
Q: Does the recessed box need to mounted exactly centered over the mantel or is there a way to adjust the tv slightly sideways after it's mounted in this? I have a stud located exactly in the center line of my fireplace and mantel. Thanks!
A: Hello,

The recessed box needs to be mounted exactly centered, if you want your TV to be centered. Due to the TV being leveled by it's own weight, sliding the TV may throw off the weight distribution.

If you have a stud dead center, you want to cut out the center stud and place the RB100 within that section. You would then purchase/use our RBE10 accessory which are extension brackets that will allow you to catch the two far studs on the left and right of where the centered stud was.
Q: I see that the vertical drop will be reduced by 2" using the recess box with the MM540. Will the MM700 also lose 2" vertical drop using recess box?
A: Good question, and yes...100%. Any of the mounts used with the recess box would lose a few inches of vertical drop. Simple geometry really. The further back the arm is set, the less room for drop you will have. All of that said, you're not losing a very noticeable amount when you're talking two inches. Thanks for asking!
Q: In a new construction, I would like to mount this without the stud extensions on the outside of the wall.

Is it acceptable to build a stud cavity to fit the box in and mount it directly to the studs that way?

What dimensions would that cavity need to be?
A: Hello,

It is perfect fine to build a stud cavity to fit the RB100. Normally, I recommend using the RB100 as a template for the best results in regards to framing the area for the RB100. That said, the RB100 is 28.25" tall, 7.4" wide and 3.7" deep.

-MantelMount Team-
Q: The description says "NOTE 2: If recessing the MM540 with the RB100 Recess Box, maximum swivel is 35 degrees in both directions. The swivel extender kit included with the MM540 will not will not be usable if the mount is recessed."

However this diagram seems to indicate that a 50 degree swivel in one direction is still possible: https://cdn.shopify.com/s/files/1/0758/7331/files/MM540__RB100_SSB40_SpecDiagram_548ee96a-bdba-4d0c-8481-ac312f1013a3.pdf?8135

Which one is it?