4.8 star rating
1258 Reviews
(1047)
(196)
(14)
(1)
(0)
Amazing mount makes viewing sooo much more comfortable
Review by Ehsan H. on 18 Jul 2020
review stating Amazing mount makes viewing sooo much more comfortable
Had an existing tv mount above our fireplace but viewing had become uncomfortable to enjoy tv there. Came across the Mantel MOunt MM540 and decided to give it a try and have not looked back (or as high :P) since. Makes viewing more comfortable, has the changing color handles to let you know the handle is hot so super safe. Easy enough for my 8yr to pull down put back up the tv with ease.
The tv can now rotate left and right whilst it is down.
A solid, sturdy mount that can even accommodate a soundbar. A must buy if you need a mount and have a fireplace!
Grat
Review by Mike F. on 18 Jul 2020
review stating Grat
Grat
Awesome product
Review by John S. on 18 Jul 2020
review stating Awesome product
This is a great idea for those concerned with both aesthetics and viewing angles. It really allows us to have the best of both worlds. Easy to install. Excellent, detailed installation instructions. Everything in the box is well organized. Plenty of mounting options. The mount itself is very high quality. It's very sturdy and the up and down movement is smooth and easy. I have no doubt it will serve us well for many years.
Mm540
Review by Simon O. on 17 Jul 2020
review stating Mm540
Is so amazing and it works perfectly.
Mount. Finally Installed
Review by Sandra P. on 17 Jul 2020
review stating Mount. Finally Installed
MM540 mount finally installed today in my new home. I bought the mount early thanks to a very nice sale price and now I'm finally enjoying it. The ability to lower the TV is a big help for my neck issues.
Great TV Mount!
Review by John B. on 17 Jul 2020
review stating Great TV Mount!
I have it outside under my pavilion roof and it works great!
Exactly the mount I needed
Review by George A. on 16 Jul 2020
review stating Exactly the mount I needed
Over the fireplace mounts are hard to find and I'm so grateful Mantel Mounts created this. Made my remodel that much easier and now my neck doesn't hurt to watch tv. Unexpectedly my 55 inch tv now feels huge when you bring the mount down. Love this product.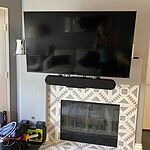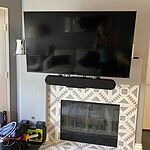 Great mount!
Review by Dave S. on 16 Jul 2020
review stating Great mount!
Installation instructions are tough but once it's up, it's Fantastic!!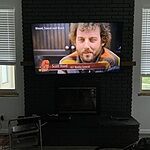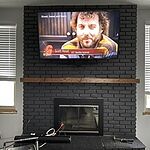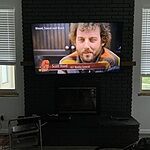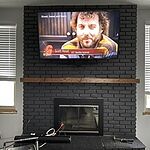 Great tv mount!!!
Review by Robert R. on 15 Jul 2020
review stating Great tv mount!!!
This mount is really versatile. It's so sturdy as well.
Kahealani B.
4 star rating
Mantel Mount - Outdoor Patio
Review by Kahealani B. on 15 Jul 2020
review stating Mantel Mount - Outdoor Patio
Enjoying my Mantel Mount. The mount is sturdy and made of quality comoonents. Wish there was more than 2 height adjustments and includes a handle that is flush with the bottom of screen. Price of mount was more than I wanted to pay.
Q: Can the Playbar from Sonos be mounted directly on the MM540?
Q: What are heat sensors? What do they do? How do they work?
A: Great question! The heat sensors are one of our patented features. They're handles that actually turn red when the heat from your fireplace goes above 110 degrees, telling you to make sure your TV is in the raised position AND/OR to turn off the fireplace. They're there as a safety measure to assure you don't damage your electronics. The handles work very similar to the old rubber ducky in the bathtub..where if the water is too hot for your child, the duck changes colors!
Q: Have a fireplace mantel that is 24in deep, would this be able to accommodate it?
A: Unfortunatley no, thats very deep mantel. The MM540 only clears up to 18.75" mantels.
Our MM750 clears up to 24" if you surface mount it and NOT recess it, but as 24" is the upper limit, clearing a 24" mantel will definitely eliminate most swivel capability once the mantel is cleared.
Please reach out to support at
contact@mantelmount.com
with additional questions and thanks for checking us out!
Q: Will this mount on studs that are 26-27 inches apart?
A: Yes! You will simply need to buy our PE40 Extended Wall Plate accessory.
Q: Want to mount it over the fireplace, but, the stone is on. What are my options?
A: Hi,

I hope this message finds you well. Yes, MantelMount can be installed with a stone or brick fireplace if the stone or brick is thick and secure, not just a flimsy façade, with the use of concrete anchors. Many of our customers install onto brick or stone.

Concrete anchors can be easily purchased at any hardware store. Simply use our lag bolts (for mounting into studs) as a guide when you visit the hardware store in order to get the correct anchors.

Also if the stone is uneven he will need hanger bolts and have to set the depth with a lock nut. This will create an even plain on the uneven surface.

If you have more questions just let us know. Happy New Year!
Q: Can you mount the Bose 700 Sound Bar to this?
Q: We have 2 inch thick stacked stone over 1/2 inch backerboard over studs. I'm not sure the stone itself will hold the mount and TV. Can we drill through the stone, get longer lag bolts and mount it to the studs? Or will that cause too much torque, with the mount/tv being 2 1/2" from the studs supporting it? Any suggestions.
A: Hello,

You're definitely going to need to drill through the stone and get to the studs. You will need to purchase longer lag bolts. The lag bolts we provid are M8 x 60mm, so you will likely need 90 - 100mm lag bolt at minimum.
Q: I have a Samsung curved TV model UN65KS8500. Can I use this mount?
A: Will work, no problem!
Q: If I am planning to use a small soundbar such as the Sonos Beam (25" wide) I have two questions:

1 - Do I need the Sonos Beam wall mount also? Or does the Mantel Mount include everything I need?
2 - Can the soundbar mount on the Mantel Mount be adjusted so that it does not stick out beyond the small soundbar to the left and right?

Thanks!
A: Greetings from MantelMount.

The Sonos Beam will require the Sonos Wall Mount Kit. This is because the mounting holes are located on the bottom of your soundbar rather than the back. If you were to attach it to our bracket without the wall mount kit the speaker would point down rather than forward. The wall mount kit is an L bracket that will reverse the mounting holes (key holes typically) to the back of the sound bar

The horizontal brace that the beam would be attaching to is roughly 29" long(, you will need the SBXL universal soundbar adapter (sold direct), if you want to avoid any exposure of the standard attachment

MantelMount
Q: I can't see any info on the maximum depth of mantel that this mount (which looks really good, BTW) that this will work with. Ours is just over 14" from the wall to the front of the mantel. We also have a Sonos sounds bar so I saw the info below on getting a Sonos mount
A: Hello,

Thank you for your interest in MantelMount. The MM540 can clear a maximum depth of 16". You also want to make sure that the height above your mantel is a minimum of at least the size of your TV and soundbar, plus an added 9".

Don't hesitate to contact us with any further questions

-MantelMount Team-