4.8 star rating
946 Reviews
Cool TV Mount
Review by Donnie G. on 14 Nov 2019
This is a very high quality TV mount. I highly recommend it. The instructions were a little confusing, but if you take your time and layout everything and start putting it together, you will see come together nicely. You will need someone to assist with lifting it up on the wall.
Devender G.
5 star rating
Good and sturdy product
Review by Devender G. on 13 Nov 2019
Installed by myself with little help from wife, it took 2-3hours, it is sturdy and strong, a little hard to pull down. i thought of putting it on top of fireplace but put it high up on the plain wall. I have a little one aged 2.5 years and it is perfect for as he cannot reach and touch the tv screen. overall a little pricey for the wall mount but has a good value.
A great solution to a neck craning problem...
Review by Robert C. on 13 Nov 2019
The installation package is a bit overwhelming with all the parts, but that is because they have tried to cover every possibility in installation. The instructions are clear and detailed to allow you to get it up and functional quickly. While you need two people for some steps, the majority is just one man assembling the mount. Especially nice are the added safety features built into the mount's design. Thank you for a great product that makes our TV viewing a lot more relaxing and enjoyable...
Great product
Review by Philip V. on 13 Nov 2019
Great product
Christopher S.
5 star rating
So far so good!
Review by Christopher S. on 12 Nov 2019
Got the MM540 Pull down TV mount. Quick shipping. Asked the installer to do it for me since the TV was over a fireplace. It was his first time installing this type of bracket so there was a small learning curve. All in all, took about 90 mins. It is easy to pull down and put back up. I love how our necks are at a more natural position now!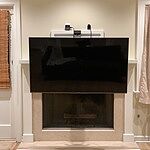 Great product!
Review by Nunzio T. on 11 Nov 2019
Solid, well made!
Good product
Review by Jose R. on 8 Nov 2019
I like the mantle mount. It is well built and good quality materials. My only complaint is related to the instructions. In some of the steps these are not clear and would not tell you the order you have to put the parts, causing for you to figure it on your own by trial and error.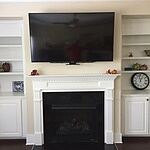 It works as advertised. It's
Review by Mary a. on 8 Nov 2019
It works as advertised. It's a little hard to get started and so far needs two people. Overall, we are pleased.
The perfect solution for our brick fireplace!
Review by Annie G. on 6 Nov 2019
I'm so happy with this product! The TV no longer blocks our water views or our fireplace and the install was much smoother than I expected!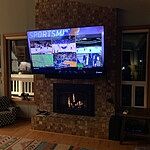 Works Grteat
Review by Greg M. on 6 Nov 2019
If you feel your tv is too high, this will fix it. Sturdy, and easy to put up if you are a diy-er for sure and know your way around some tools, drilling and measuring. If not you need to get someone who is. But I moved into a new house and the only place realistically to put my tv was above the fireplace. I watch a lot of sports and I found myself not liking my new situation. Neck pain and such, even though it didn't seem like I was looking up with my neck all that much. That has gone away. We leave it down most of the time, but it's nice to be able to put it up if you want.
Q: What's the vertical hole distance/pitch for the stud mounting holes? I'm considering to replace an existing fireplace TV mount with this one. The existing one has a vertical hole distance/pitch of 14.65".
A: Hello,

The vertical distance between holes is approximately 11" The total height of the wall plate is 11.5".

-MantelMount Team-
Q: I have a Yamaha front surround system model ats-1080 will this connect to your mount?
A: Hello,

The Yamaha ats-1080 will connect to the MM540. However, ats-1080 has Keyholes for mounting, which is usually for wall mounting. What you would do in this case is get a couple of bolts, nuts and washers. Attach the bolts, nuts and washers to the attachment on the MantelMount. You don't want to make them tight, just want them adjusted enough so that you can sit/slide the soundbar keyhole on the head of the bolt. Once you do this, you will then adjust the nut and make it as tight as possible.

This is basically the same format as mounting it on the wall, but instead you're mounting it to the mount itself. Please let us know if that makes sense.
Q: Can this be used on an outdoor screened in porch?
A: Sure it can...we have customers who have done this! If you are mounting to say a beam or post, instead of mounting to a traditional wall with two studs, you'll want to make sure to include the Single Stud Adapter in your order. Please consult with customer support before ordering..they'll guide you to the best decision for MantelMount on your outdoor living space!
Q: I am a novice. My mantel ledge is 16 1/2" . I also have a sound bar. Which of your products do you recommend?
A: Hi! The MM540 is what you want unless your TV is over 80lbs. In that case you'd be best going with the MM750. Any other questions feel free to email us at
contact@mantelmount.com
or
800-897-9755
x 1. THNX!!
Q: I don't need a soundbar, just a center channel speaker. Can I mount that on this? What dimension speakers will it support?
A: Hi there, please reach out to
support and they will give you the low down on your channel speaker!
contact@mantelmount.com
Q: Hi - I see that you answered that 540 goes to 16". I just saw on an earlier similar question from someone else that it goes to 18.75". Which is correct??
A: Hello,

The MM540 can extend/stick out 18.75" at full length (approximately 90 degrees). However, it will only clear a mantel up to a maximum of 16" of depth.

-MantelMount Team-
Q: I can't see any info on the maximum depth of mantel that this mount (which looks really good, BTW) that this will work with. Ours is just over 14" from the wall to the front of the mantel. We also have a Sonos sounds bar so I saw the info below on getting a Sonos mount
A: Hello,

Thank you for your interest in MantelMount. The MM540 can clear a maximum depth of 16". You also want to make sure that the height above your mantel is a minimum of at least the size of your TV and soundbar, plus an added 9".

Don't hesitate to contact us with any further questions

-MantelMount Team-
Q: If I am planning to use a small soundbar such as the Sonos Beam (25" wide) I have two questions:

1 - Do I need the Sonos Beam wall mount also? Or does the Mantel Mount include everything I need?
2 - Can the soundbar mount on the Mantel Mount be adjusted so that it does not stick out beyond the small soundbar to the left and right?

Thanks!
A: Greetings from MantelMount.

The Sonos Beam will require the Sonos Wall Mount Kit. This is because the mounting holes are located on the bottom of your soundbar rather than the back. If you were to attach it to our bracket without the wall mount kit the speaker would point down rather than forward. The wall mount kit is an L bracket that will reverse the mounting holes (key holes typically) to the back of the sound bar

The horizontal brace that the beam would be attaching to is roughly 29" long(, you will need the SBXL universal soundbar adapter (sold direct), if you want to avoid any exposure of the standard attachment

MantelMount
Q: I have a Samsung curved TV model UN65KS8500. Can I use this mount?
A: Will work, no problem!
Q: We have 2 inch thick stacked stone over 1/2 inch backerboard over studs. I'm not sure the stone itself will hold the mount and TV. Can we drill through the stone, get longer lag bolts and mount it to the studs? Or will that cause too much torque, with the mount/tv being 2 1/2" from the studs supporting it? Any suggestions.
A: Hello,

You're definitely going to need to drill through the stone and get to the studs. You will need to purchase longer lag bolts. The lag bolts we provid are M8 x 60mm, so you will likely need 90 - 100mm lag bolt at minimum.