4.8 star rating
1027 Reviews
Changed the whole home!
Review by John R. on 16 Jan 2020
review stating Changed the whole home!
Before I put the tv on the fireplace we could never get the seating area right in our space...and now it just feels so good!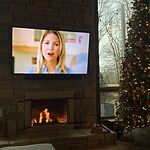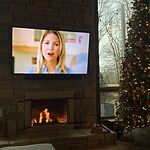 Tony R
Review by Anthony R. on 16 Jan 2020
review stating Tony R
Love the mount the functioning is just as advertised a little more time consuming with the installation but it works great
Great Product
Review by John S. on 15 Jan 2020
review stating Great Product
I saw a mantel mount at my neighbors house and it worked great. They used it about their fireplace. I had a different need because we have a lot of art in our home and thus limited wallspace for a TV. We put the TV above a piece of art in our living room and it works great, allowing us to see art when not watching TV and having the TV at the right height for viewing.

It is well worth the money. The only thing I would recommend for anyone who wants to buy one, is to hire a professional to hang it. I have hung TV mounts before, but these mounts are a bit more complicated because of the mechanisms used. Another thing that I did was to buy optional speakeer mount on top of TV, this allows you to maximize how low your TV can be for viewing.

All in all, worth every penny and very well constructed.
Sturdy
Review by William S. on 15 Jan 2020
review stating Sturdy
I am pleased with my MM540. One item for consideration is to provide a head shield that protects the tv while using the fireplace. I designed my own "L" shape sheet metal protector which mounts on the back of the vertical bars and projects 5 inches out.
Love it
Review by Neal I. on 14 Jan 2020
review stating Love it
Great Mount! Does exactly what it says it can do.
MM540
Review by Gail S. on 14 Jan 2020
review stating MM540
I love my MM540 I bring it down to watch TV and put it up when not in use. I have an odd shape living room with limited walls space so above fire place was the only option for me. But with 9 foot walls and a gas fireplace up off the ground. installing TV above fire place would of been way to high to watch. With the MM540 the TV comes down to an easy to watch eye level.
Problem solved. Works as advertised.
Review by Russell W. on 12 Jan 2020
review stating Problem solved. Works as advertised.
Problem solved. Works as advertised. Highly recommended/
Great product
Review by Brian P. on 11 Jan 2020
review stating Great product
Overall this made my installation of my 75" tv easy. Having to hang the tv on a standard mount from ladders leaning over the mantle wasn't going to be difficult. Using this mount allowed mounting the tv an easy lift for me and my brother. Only nite the installation of this mount is fairly complex. READ THE INSTRUCTIONS! They give you all info so it can be done but I wouldn't recommend for novices. I had only 2" of clearance at the top factoring all the required distances.

Overall, great product, just give time for the install.
Life changing!
Review by Lisa B. on 10 Jan 2020
review stating Life changing!
This is the best TV mount ever - it gave me so much room back in my great room. I love that I can pull it down and put it back up when not in use.
Patricia h.
5 star rating
Enjoying our additional space
Review by Patricia h. on 10 Jan 2020
review stating Enjoying our additional space
Mount made our room larger due to removeing TV from floor that had taken up valuable space. We do not use our wood stove any more so this was our best option. TV now above our mantel.
Q: Can the Playbar from Sonos be mounted directly on the MM540?
Q: What are heat sensors? What do they do? How do they work?
A: Great question! The heat sensors are one of our patented features. They're handles that actually turn red when the heat from your fireplace goes above 110 degrees, telling you to make sure your TV is in the raised position AND/OR to turn off the fireplace. They're there as a safety measure to assure you don't damage your electronics. The handles work very similar to the old rubber ducky in the bathtub..where if the water is too hot for your child, the duck changes colors!
Q: Have a fireplace mantel that is 24in deep, would this be able to accommodate it?
A: Unfortunatley no, thats very deep mantel. The MM540 only clears up to 18.75" mantels.
Our MM750 clears up to 24" if you surface mount it and NOT recess it, but as 24" is the upper limit, clearing a 24" mantel will definitely eliminate most swivel capability once the mantel is cleared.
Please reach out to support at
contact@mantelmount.com
with additional questions and thanks for checking us out!
Q: Will this mount on studs that are 26-27 inches apart?
A: Yes! You will simply need to buy our PE40 Extended Wall Plate accessory.
Q: Want to mount it over the fireplace, but, the stone is on. What are my options?
A: Hi,

I hope this message finds you well. Yes, MantelMount can be installed with a stone or brick fireplace if the stone or brick is thick and secure, not just a flimsy façade, with the use of concrete anchors. Many of our customers install onto brick or stone.

Concrete anchors can be easily purchased at any hardware store. Simply use our lag bolts (for mounting into studs) as a guide when you visit the hardware store in order to get the correct anchors.

Also if the stone is uneven he will need hanger bolts and have to set the depth with a lock nut. This will create an even plain on the uneven surface.

If you have more questions just let us know. Happy New Year!
Q: Can you mount the Bose 700 Sound Bar to this?
Q: We have 2 inch thick stacked stone over 1/2 inch backerboard over studs. I'm not sure the stone itself will hold the mount and TV. Can we drill through the stone, get longer lag bolts and mount it to the studs? Or will that cause too much torque, with the mount/tv being 2 1/2" from the studs supporting it? Any suggestions.
A: Hello,

You're definitely going to need to drill through the stone and get to the studs. You will need to purchase longer lag bolts. The lag bolts we provid are M8 x 60mm, so you will likely need 90 - 100mm lag bolt at minimum.
Q: I have a Samsung curved TV model UN65KS8500. Can I use this mount?
A: Will work, no problem!
Q: If I am planning to use a small soundbar such as the Sonos Beam (25" wide) I have two questions:

1 - Do I need the Sonos Beam wall mount also? Or does the Mantel Mount include everything I need?
2 - Can the soundbar mount on the Mantel Mount be adjusted so that it does not stick out beyond the small soundbar to the left and right?

Thanks!
A: Greetings from MantelMount.

The Sonos Beam will require the Sonos Wall Mount Kit. This is because the mounting holes are located on the bottom of your soundbar rather than the back. If you were to attach it to our bracket without the wall mount kit the speaker would point down rather than forward. The wall mount kit is an L bracket that will reverse the mounting holes (key holes typically) to the back of the sound bar

The horizontal brace that the beam would be attaching to is roughly 29" long(, you will need the SBXL universal soundbar adapter (sold direct), if you want to avoid any exposure of the standard attachment

MantelMount
Q: I can't see any info on the maximum depth of mantel that this mount (which looks really good, BTW) that this will work with. Ours is just over 14" from the wall to the front of the mantel. We also have a Sonos sounds bar so I saw the info below on getting a Sonos mount
A: Hello,

Thank you for your interest in MantelMount. The MM540 can clear a maximum depth of 16". You also want to make sure that the height above your mantel is a minimum of at least the size of your TV and soundbar, plus an added 9".

Don't hesitate to contact us with any further questions

-MantelMount Team-