4.9 star rating
197 Reviews
Love it
Review by David C. on 3 Jul 2020
review stating Love it
Easy install and wife shows it off to everyone that comes in. Thanks are my!
Absolutely the BEST
Review by Robert C. on 29 Jun 2020
review stating Absolutely the BEST
This mount is exactly want we were looking for. It is easy to install and works amazingly. The entire family loves the ease of use. Highly recommended!
MM700
Review by Mikelle C. on 25 Jun 2020
review stating MM700
This mount is amazing with my 85" tv!!! Everyone always compliments on how cool it is!!! Great If my chairs are reclined or watching while were eating in dining room because of 60 degree turning radius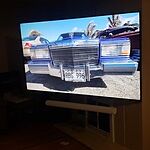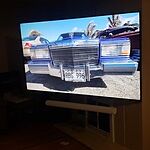 Best over the Mantel Mount
Review by Ty L. on 24 Jun 2020
review stating Best over the Mantel Mount
This is the best over the Mantel TV mount. It accommodates the new SONOS ARC without the optional sound bar adapter!!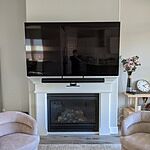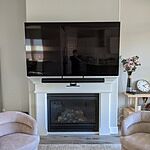 Very Happy with my mantlemount
Review by Frank H. on 17 Jun 2020
review stating Very Happy with my mantlemount
Love our new fireplace mounted TV. Not having it sit on furniture opens up the whole room. The MM700 was very easy to self install. We chose the recessed option and that makes it ever easier. Very well made, good directions, well packaged. Can't say enough good things. I was all set to buy the more expensive model but the salesperson steered me towards the 700 model saying if was fine for a 65' TV with soundbar. Great! Saved me money! They also gave me recommendations for TV purchase. that worked especially well with their mount. I was very impressed with the technical support. I called several times to make sure my measurements were correct. Very quick and helpful. Very happy with my purchase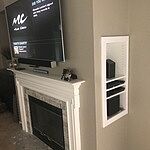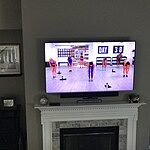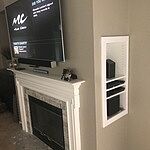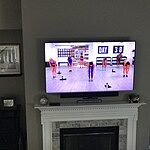 Good choice for over a mantle
Review by David S. on 16 Jun 2020
review stating Good choice for over a mantle
Generally good product. Instructions could use more detail and I would suggest adding one or two more inches of height if you mantle is in the mid range or near the larger side the sizes in the table. Also, a bit pricey, but the larger width did a great job of providing the support my TV needed.
Buy once, cry once.
Review by Curtis C. on 10 Jun 2020
review stating Buy once, cry once.
I didn't want to spend such an amount on a tv mount but my tv weight pushed the top limits of the lower model. Buy once, cry once. I sucked it up and paid for quality. This thing is awesome! It pulls down and goes back up very smoothly. Mounting the tv on the fireplace has opened up our living room and given me a theater-like experience with the 75" tv and sound bar. Definitely worth the money with the best warranty out there.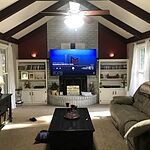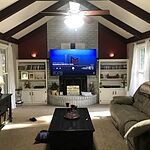 everything is great
Review by Maurice J. on 9 Jun 2020
review stating everything is great
I wanted to know if there was a way to tweak the angle a little the rotation that is everything else is great
Super satisfied customer
Review by Albert L. on 8 Jun 2020
review stating Super satisfied customer
I picked up an MM700 for my new house. There were a custom built-in shelves around the fireplace and the only place a TV would fit was above the mantel. MantelMount was the perfect solution as I hate the idea of having to crane my neck to watch TV. The MM700 was surprisingly easy to install and after a month of use, I'm super satisfied. I've recommended MantelMount to a bunch of my friends.
Perfect compliment
Review by John L. on 25 May 2020
review stating Perfect compliment
We did our research to assist in our purchase and found the Mantle Mount 700 to be the perfect addition to our design needs.
Q: Am considering purchasing a 75", 98lbs Samsung. Due to stone fireplace, I can not use your suggested flush mount option. Without that option will the mantle mount sustain the load and even with the fact I will be using the pull down 2x or more daily? Also, if purchased and with free delivery, when do you expect delivery to Hendersonville, NC?
A: MM700 is definitely the right mount for this. Pushing the weight limit but can handle it. If ordered before Noon PST today it *should* ship today and be to you within 2-3 days but we never promise. Thanks!!
Q: The MM540 specifies "8 Degree Adjustable Tilt" but I cannot find any mention of an adjustable tilt on the MM700 Pro. Does it have an adjustable tilt or not?
A: Hi there! The MM700 has minimal tilt and not enough to really make a difference. If tilt is important to you, the MM540 is your right choice. Thanks for visiting us!
Q: What is the purpose of the wall plate cover on the MM700 model?
A: Hi there! The wall cover is used by most to cover the back wall plate for a more aesthetically pleasing appearance, as opposed to seeing the exposed wall plate when the TV is in the lowered position. Using the paintable wall cover is entirely optional!
Q: I am considering a Sonos Playbar and a 81 pound 75 inch TV. Is the MantelMount compatible with the Playbar installation? Does it allow enough clearance for them both to be installed with the standard hardware? Will the Playbar install correctly with the standard hardware?
A: Hello,

The Sonos Playbar is compatible with the MM700. As long as you have enough clearance above your fireplace, you shouldn't have any issue with clearance. However, installing the heat sensing handle below the Playbar will be a tight fit. I normally recommend using the Sonos Playbar wall mount kit, in conjunction with the MM700 soundbar attachment. Basically mounting the wall mount kit on the MM700 attachment to give you a bit more room for the heat sensing handle. Some customers also forego installing the heat sensing handle for aesthetic reasons.
Q: Bought this MM700pro mount. I want to purchase a 75" TCL which is 100 lbs and mount my Samsung soundbar which is 18lbs. Is this doable?
Q: Will this work with the 77" LG C9. Also How many inches does the TV stick out when pushed all the way back?
A: Good morning! Yes, the MM700 should be a great choice for that specific LG you referenced. The screen size and weight fall within the MM700 limits. When fully raised and without being recessed(using our RB100 recess box) you can expect about 5.5" between the tv and the wall. With the recess box you'd be looking at 1.75" flush to wall but you'd have to be willing to cut into your surface to house the recess box. Hope this answers your question!
Q: We have a curved Samsung 65" TV and no center stud in a recessed wall above the fireplace. Will the MM700 work for us? What is the height of the pull (how many inches between the pull and bottom TV edge)?
A: Hello,
The MM700 is 37.5" wide, so it should be able to reach your far studs without issue as I'm assuming your studs are 32" apart. The MM700 should work for you based off the information you've provided. I'm not sure what you mean by "How many inches between the pull and bottom TV edge?"
When you have a chance, please reach out to our customer service via email at:
contact@mantelmount.com
. They can help you with additional questions.
-MantelMount Team-
Q: what would be the best mount for a Sony 77" TV - what is the difference between the MM700 and the MM540?
A: What is the weight on that Sony 77"? If money is not an object, the MM700 is probably our smoothest mount in terms of easiest pull down, AND it holds a heavier TV than the MM540...but from a features standpoint, they're nearly identical. MM700 is the "better mount"(but they're both great)...and for smaller TV's, MM540 is a great call. 77" is not a small TV ...so unless the weight is super light(under 70 lbs), the MM700 will operate that pull down better for that sized TV than the MM540. The MM540 can hold up to 90 lbs, but after 70 lbs it is harder to pull down and requires more force.
Q: What is maximum mantel clearance?
A: Hi there. 20.5 inches if not recessed and 17.5 recessed. Thanks!
Q: If you decide not to use the heat sensing handle because of aesthetic reasons. How to you pull down the tv with sonos playbar attached?
A: Hello,

If you decide not to use the heat sensing handle for aesthetic reasons, you can grasp the horizontal brace that will be behind the Playbar in order to pull the TV down, you can also grasp the TV.

That said, I recommend mounting the handle backwards, behind the Playbar so that it is hidden. Doing this will allow you to grasp the heat sensing handle, while having it mounted so that it isn't visible.

-MantelMount Team-